Every great adventure needs great guides - experienced leaders to inspire, advise, warn, and encourage.
Find them on the acclaimed
OutsideVoices podcast.
Every great adventure needs great guides — experienced leaders to inspire, advise, warn, and encourage.
Find them on the acclaimed OutsideVoices podcast.
The OutsideVoices Podcast
In each episode, host Mark Bidwell speaks with a celebrated name in business, arts, sports, exploration, or academia about topics from leadership and performance to creativity and growth.
Offering personal stories and hard-won wisdom, each unguarded and in-depth conversation is a torch for your own trek through today's volatile and uncertain world.
Spot new vistas. Explore fresh paths. Crack your hardest challenges. You'll get a lot further with these guides whispering in your ear.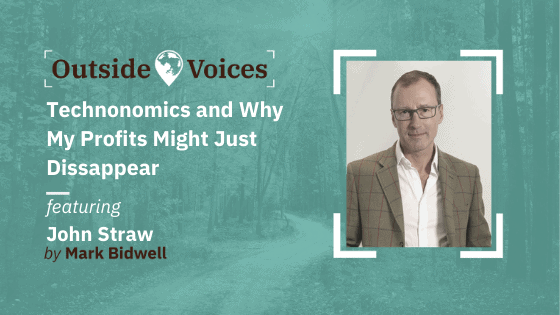 In this episode, we are joined by digital and marketing entrepreneur, John Straw, who describes himself as a "technonomist" – someone exploring the cutting edge
Read More »
A valuable resource for leaders seeking inspiration and insight. Mark combines his personal experiences with the perspectives of a range of compelling guests, relevant for anyone seeking to enhance innovation and entrepreneurial capabilities
Mark Bidwell not only does his homework to get as much learning as possible from his guests, he himself is an expert innovator
I got interested in these because Mark interviewed me for one. I've since been listening to others and have come to really enjoy the broader back-story around innovation - not just what happened by why other entrepreneurs have developed a specific point of view.
Mark's podcasts are like a business person's answer to everything all in one place. The range of guests is as diverse as the topics, and their knowledge is squeezed out by the exceptional host. True inspiration for anyone wanting to make their business life more exciting and productive.
Best show in its category

June 26, 2018 by Pinkstyy from United Kingdom

This is by far one of the best podcasts I've ever listened to. As a podcaster myself I find it incredibly refreshing, the scope and depth of top is, guests and perspectives that the show offers really helps you question what you think you know about leadership, innovation, career development and even personal growth and life-work balance. The questions and conversations are incredibly smart, deep and thought provoking. I have applied many of the principles the guests present in my own personal life and professional relationships, even with my partner! I freaking love this show.

Phenominal content for thought leaders

June 25, 2018 by Kage233 from United States

So many amazing guests and Mark really pulls the best information out of them. This podcast is bingeworthy and actionable! I love it!

Innovation Ecosystem is leading the way!

April 11, 2018 by ErikBison from United States

Innovation Ecosystem shares actionable insights on how to become a better leader (and innovating with purpose and values). I highly recommend listening and subscribing if you want the knowledge AND mindsets to become the best leader you can possibly be (and grow your business and live your best life as a result)!

Really good quality, thought provoking podcasts

February 26, 2018 by GazzaTurner from United Kingdom

I have found this podcast series by accident but I am very pleased that I have. The relevance, transferability and ideas are all so applicable and are well on point regards the future of work

Awesome show, highly recommend!

November 2, 2017 by J. Barshop from United States

Mark and his guests share actionable and inspiring lessons to become a better business leader and (more importantly) a better overall person. Highly recommend listening and subscribing to The Innovation Ecosystem if you want the knowledge AND mindsets to take your business to the next level (and reach your overall goals as a result)!

Mark Bidwell is driven to help you lead better

July 7, 2017 by Joshua Spodek from United States

I've had the pleasure of meeting Mark. One-on-one as well as interviewing his world-class guests, he is driven beyond just bringing you interesting conversation to helping you connect with his guests and learn from them. He has big corporate teams and small entrepreneurial ones. He's innovated and he's worked with bureaucracies. That experience comes through in making his guests comfortable to share vulnerabilities and experiences we can learn from.

Class Act Podcast

March 29, 2017 by Whitney Johnson from United States

Mark Bidwell not only does his homework to get as much learning as possible from his guests, he himself is an expert innovator -- also loves the visual collteral that accompanies each episode.

Getting the Back Story

October 9, 2016 by P Brody from United States

I got interested in these because Mark interviewed me for one. I've since been listening to others and have come to really enjoy the broader back-story around innovation - not just what happened by why other entrepreneurs have developed a specific point of view.

Food for thought... Inspiring!

October 4, 2016 by GusGusBer from United States

What a great way to learn and grow! A very professional podcast series, highly recommended.

Brian M

October 4, 2016 by BrianMooney77 from United Kingdom

This is a well produced show with fresh perspectives on innovation and management and lots of practical suggestions of how to improve - well worth subscribing.

Inspiring, Thought-provoking and Insight-Generating

September 30, 2016 by morethentic from Switzerland

A really great Podcast that inspires, provokes thinking and generates actionable insight for enterpreneurs, intrapreneurs and people who are interested to disrupt the status quo. Mark is a phantastic host who invites thought leading guests. Excellent and easy to listen to. And furthermore, you get a good summary of the discussion as a drawing. Thanks Mark!

Innovation? Ecosystem to the rescue!

September 28, 2016 by Nicolas MX from France

Looking for insights to optimize your organisation and build an innovative and entrepreneurial start-up or company? Listen this great innovation ecosystem podcast, and visit the website

My morning ritual

August 4, 2016 by Sabbywabby from Australia

This podcast has embedded itself into my morning commute and has enriched my way of thinking. I often relisten to podcast episodes and find something new to think about each time. Keep up the good work! Sab (Sydney, Australia)

Just outstanding!

July 22, 2016 by Heheh6! from United Kingdom

This is such an invaluable resource - the only thing I can think of that comes close to it that I've come across in the past 25 years is 'The Fifth Discipline Fieldbook'. Thank you Roddy and Mark. Can't wait for season two.

Innovation pod comment

June 13, 2016 by Glue magnate from Switzerland

Good experience so far from a rare user of pod casts. Shorter, punchier sessions are the best. Those that have clear simple focus resonated best. Mark's interview style is refreshing

Very recommendable..

June 4, 2016 by Ursi_42_broc from Switzerland

Truly inspring! Looking forward to every new episode. Keep going!

New insights

May 12, 2016 by The kackies from Switzerland

Great collection of stories about innovation, change, collaboration and working with uncertainty. Equally applicable to business and personal journeys.

Amazingly interesting

April 19, 2016 by Awintz from United Kingdom

The selection of all topics on innovation and entrepreneurship are highly interesting! So great to hear from so many experienced and talented people.

Nice initiative - look forward to more!

April 18, 2016 by D,G,S&B from United Kingdom

Great, engaging, listener-friendly opportunity to hear interesting perspectives from a diverse group of speakers.

Fresh and Interesting

April 3, 2016 by heyo kayo from United States

Great discussions and insights.

Good overview on change

March 28, 2016 by rkml from United States

Listened to the interview with Lisa Bodell. Fast paced, quite focused. Great material.

Innovation Ecosystem

March 28, 2016 by rozbarb from Switzerland

A very interesting new angle on innovation using guests from a wide range of different background with some surprising conclusions. Very good start. Keep it up.

Well Worth Listening

March 24, 2016 by Litigious Ron from United States

Roddy and Mark skillfully guide and probe their guests in a manner that is much more effective than simply listening to the guests give a speech. The guests are top of the range and very much worth hearing. Links to the guests' websites and other resources provide the material for a deeper dive. This stuff has gotten me thinking about the long term and I am really looking forward to future guests.

Genuinely inspiring

March 23, 2016 by Ewan-L from United Kingdom

Great quote: "The larger your organisation, the smaller your world". Very thought-provoking, relevant and well-produced.

Insights with Expertise

March 22, 2016 by Pi Innovation from United States

I am an innovation junie. I read it, I write it, I teach it, I research it. And I like to listen to people talk about it while I drive or go for a run. The thing that makes this podcast stand out over many others is the expertise of the interviewers, not just the interviewees. On some podcasts, the interviewer sounds like they are looking at innovation with that deer-in-the-headlights expression. The resulting interviews are superficial at best. Not so with the Innovation Ecosystem. The interviewers have lived, breathed, eaten, and slept innovation in their careers, so they are able to ask the perceptive questions that get the interviewee to go deeper on the topic. Outstanding program!

CEO

March 20, 2016 by Online predictor from United States

Well conceived and relevant. Innovation is much discussed yet little achieved. This could help

Fantastic Show

March 20, 2016 by PrestonPysh from United States

I really love this podcast. Mark and Roddy are easy to listen to, they are exceptionally smart, and most importantly they ask great questions. You can tell these guys have run large cap business by the way they interview their guests. That makes a big different for me. Fantastic Show!

Innovation Ecosystem is Innovation at its Best

March 20, 2016 by Hillel Maximon from United States

Like Steve Goldstein's riveting example of keeping one's 'eyes-wide-open', Millar and Bidwell's podcasts compel listeners to keep their 'ears-wide-open'. They are engaging, informative, and entertaining – and I look forward to hearing many more podcasts in the future.

Great new podcast!

March 18, 2016 by JAHM1! from United States

Awesome job!

Entertaining and insightful

March 17, 2016 by Alimor42 from United Kingdom

I wish I had heard these before launching my new business. Looking forward to the next one.

Inspiring Interview

March 17, 2016 by amu2 from Austria

Original insights by interesting interviewees, time passed much quicker than I thought at first glance.

An Insightful Collection

March 17, 2016 by Synchronous Leadership from United Kingdom

A great collection of thought provoking individuals brought together by two sharp and entertaining hosts. The ideas are immediately applicable, both to my own development and for clients' development. I highly recommend this insightful series. Elias Westerdahl - The Centre for Synchronous Leadership

Natural Dialogue

March 16, 2016 by Changyinshike from United Kingdom

I enjoyed listening to a real and natural conversation with Robert Walcott which explored a number of angles around the topic of innovation, networks and even self management. In our fast world what is the optimum length of a podcast? Personally from 30 to 45 minutes feels about right but I do understand that not all fruitful conversations will construct themselves in that way. Overall this is a very helpful initiative.

Fantastic!

March 16, 2016 by catalinofamily from United States

Engaging, well structured, great speakers. Really cutting edge. Worth listening to.

Transformative!

March 16, 2016 by Giles Breault - The Beyond Grp from United States

These insights are exactly what are needed by those who have a deep desire to transform themselves and their organizations. Keep providing us with deep insight that comes from the crucible of real experience.

Thought provoking and insightful

March 15, 2016 by ElEdge4042 from Austria

Great interview, packed with interesting ideas and insights, while being practical and pleasant. I really liked the wrap up at the end, as well.

Most indispensible podcast

March 15, 2016 by Vascofonseca from Switzerland

Thank you Mark and Roddy! The quality of the content and the interviews are remarkable. It inspires to challenge the status quo within "rigid" organizations. Congrats for this great launch!

High production quality and insightful guests

March 15, 2016 by Happy Base User from United Kingdom

Interesting guests, searching questions and high production quality = subscribed.

Good to know it's here

March 14, 2016 by ilonanita from United Kingdom

Great insights.

Listening in

March 14, 2016 by in.form from Canada

Pleased this conversation is on the go. Academic underpinnings. Cross-sectoral discussions. Exactly what's needed. Helpful as listeners attempt to think broadly and cut through the noise. Will continue to plug in.

Professional production

March 14, 2016 by JMR960 from United Kingdom

Well produced, professional material.

Wonderful

March 14, 2016 by martinakw from United Kingdom

Very good indeed, have listened to 3 interviews so far. Insightful questions and useful summaries of main focus points at the end. Keep up the good work!

Insightful

March 14, 2016 by cloudierk from United Kingdom

Very insightful and inspiring!

Surprising and very good

March 13, 2016 by DickyW from United Kingdom

There are so many poor business books and podcasts that I'm usually terribly disappointed having invested my time reading or listening to them. These Innovation Ecosystem podcasts are very good indeed. The guests are all excellent, insightful and different to the usual suspects. Subjects are great and the whole thing is put together well. Refreshingly good.

Head of Comms

March 11, 2016 by DanChadwick22 from United Kingdom

Excellent quality guests and enjoyable delivery. Essential for innovation officers and anyone looking to innovate

Thought provoking indeed

March 11, 2016 by Frawkern from Switzerland

Excellent listen. While the target audience is intrapreneurs and innovation agents, many of the concepts and ideas discussed can benefit anyone interested in examining his/her life and moving forward and upward.

Loved the PPCO exercise as a test for leaders

March 11, 2016 by Marius2509 from Romania

Good point in making the difference between someone managing risk the right way vs the professional sceptics. Looking at potential positives first and overcoming concernes instead of simply ripping appart all ideas that come up is something that should be written in stone in all meeting rooms 🙂

Great guests and relevant topics

March 11, 2016 by barbersa from United Kingdom

These podcasts combine great speakers and engaging, relevant topics. Keep up the good work!

Relevant, digestible content.

March 10, 2016 by Tweetheart from United States

Only a few episodes in, but appreciating the range of perspectives & guests.

Wise and intuitive

March 10, 2016 by Atttdfr from United Kingdom

Thought provoking and insightful. Helpful and forward thinking

Client Relations Manager

March 9, 2016 by InnovationFan from United States

Great podcast - high quality and wonderful moderation.

Inspirational!

March 9, 2016 by emilyoh from United States

Innovation Ecosystem is a totally enriching podcast. Lisa Bodell's interview impressed me so much, I spoke to my boss and we killed a stupid rule together! I'm really looking forward to reading her new book. I guarantee that if you listen, you will be inspired!

Intrapreneurship on Steroids

March 9, 2016 by GSpier from United States

Mark and Roddy are two awesome hosts and they seem to have assembled an extraordinary cast of guests. This podcast is great for intrapreneurs, students of intrapreneurship as well as anybody interested in business generally.

Very insightful!

March 8, 2016 by Freeda228 from Switzerland

Definitely worth subscribing to!

Insightful

March 8, 2016 by bidderssj from United Kingdom

High calibre guests and well presented

Compelling, Relevant & Engaging Content

March 7, 2016 by Col. Percy Fawcett from United Kingdom

Wisdom from the front-line, in an easy style. A must-listen survival guide for entre/intra/extrapreneurs.

Innovative Ecosystem

March 7, 2016 by Slug C from United Kingdom

Most informative, thought provoking and inspiring. looking forward to the next instalment

Very good

March 7, 2016 by JRW03021992 from United Kingdom

Easy listening, and very insightful

Great insights on how to innovate at work

March 7, 2016 by laadman from United States

Wow! Mark has amazing guests with insights that make you really think. For example Who Are You vs Who Are You Becoming? The content here is gold! Look forward to hearing more as this is what people need to grow.

Amazing

March 6, 2016 by Moldysr26 from United Kingdom

Really great podcast, would also recommend to business students !

JPCKFGB

March 6, 2016 by fbg68 from United Kingdom

Useful and interesting cast, particularly appreciated the diversity of backgrounds and perpsectives on innovation.

Innovation

March 6, 2016 by Villars telemarker from United Kingdom

Some neat ideas presented by interesting people with much to share about innovation.

New perspectives

March 5, 2016 by Innov8trs from Switzerland

Some great early guests giving their perspectives on an important subject…well done guys

Practical advice from some remarkable people

March 3, 2016 by Nivareno67 from United Kingdom

Mark and Roddy have launched these podcasts with some remarkable guests, and their conversations dig into their experiences and tips for success. Keep it going!

Insightful and thought provoking

March 2, 2016 by HDffffdhxj from United Kingdom

Much looking forward to more of this series of interviews and discussions. Taking time out to learn from others experiences seems to be a key to succeed in any fast changing business environment.

Really great !!!

March 1, 2016 by Emilhano Lima from Brazil

Very simple, innovative and useful tool !!!!

Great listening for entrepreneurs

March 1, 2016 by mfreud34 from Switzerland

Mark and Roderick are putting together a unique podcast selection for entrepreneurs or those who want to know more about that Ecosystem. Great initiative!

Fascinating insights

February 29, 2016 by 1224542366 from United Kingdom

A glimpse into the minds and experience of people who innovate for a living. Very valuable.

Focuses questions and great guests

February 29, 2016 by EAHG68 from United Kingdom

Listened to first three episodes back to back. The guests offer useful insights for entrepreneurs as a result of focused and relevant questions. Great start and looking forward to the rest.

Are You an Leader? An Intrepreneur?

February 25, 2016 by Harry Duran from United States

Having been privy to some of the initial episodes, I've come away extremely impressed. Mark and Roddy have put together a stellar line-up of business thought leaders and this is a must-listen for leaders, who are looking for unique ways to innovate within their corporate environments. Looking forward to these episodes!